January 5, 2013 in Basic, Coding, Games, RSP2012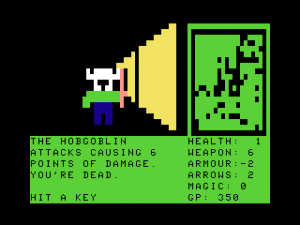 Jim Gerrie with help from his son Charlie have ported four of his games to the Tandy Coco 2/3 and Dragon 32/64.
The ported games are: Dungeon Crawl, The Doctor's Adventure on Scaro, Penguino and Battle Bots.
The archive contains a disk image with the 4 games (.dsk) and the programming notes in text format.
Download: JGGAMES4 (Downloaded [downloadcount link="JGGAMES4-01-03-13-08-30-54.zip"] times)
Each game entry have been updated with the new CoCo version.