May 30, 2012 in Basic, Coding, Games, RSP2012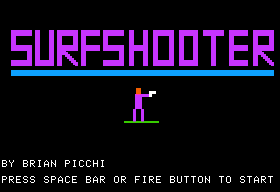 Face the marine life and beat the Bad Guy with your laser while surfing the waves!
This is the premise of Surfshooter, the Apple II game sent by Brian Picchi.
Name: Surfshooter
Author: Brian Picchi
Description: An action game with surfers and lasers.  Joystick recomended.
Platform: Apple II
Tools used: Ciderpress, Einstein Compiler, Notepad
Author notes: The program was written using the Hi-Res Apple II graphics mode (HGR for the title screen and HGR2 for the game).
The file contains a booting disk image with the game.
Download SSHOOTER(downloaded [downloadcount link="SSHOOTER.zip"] times)