December 4, 2012 in Basic, Coding, Games, RSP2012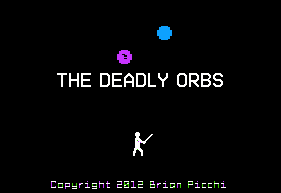 In Brian Picchi's new Apple II game you control a knight that must fight orb shaped aliens.
In this action game you must first manage to reunite the knight with his sword and then proceed to kill the alien.
Difficulty  increases with each level, the alien also becomes more dangerous, starting to shoot lasers and moving in increasingly complex patterns.
Use 4,5,6 and 8 keys, or joystick to control the game, button 2 to jump, button 1 to use your sword.
Name: The Deadly Orbs
Author: Brian Picchi
Description: An original action game where you control a knight and do battle against deadly orb-shaped aliens.
Platform: Apple II (joystick optional)
Tools used: Ciderpress, Einstein Compiler, Notepad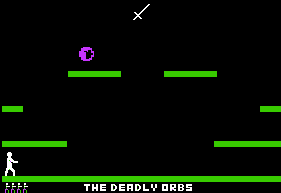 The file contains a autobooting disk image with the compiled game.
Download: THE_DEADLY_ORBS_RSP (Downloaded [downloadcount link="THE_DEADLY_ORBS_RSP.zip"] times)