January 25, 2013 en GFX, RSP2012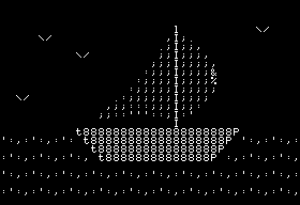 'With the Wind' es la entrada de krue a competencia, se trata de una imagen en modo texto para Apple II.
Nombre: With the Wind
Autor: krue
Plataforma: Apple II
Descripción: Imagen de un velero en modo texto 40×24
Resolución: Modo texto 40×24
Herramientas utilizadas: T40 (http://www.brutaldeluxe.fr/products/apple2/t40.html)- The GIMP y GSport para crear el PNG
El archivo contiene una imagen de disco booteable (.po) con la imagen y la imagen en formato PNG.
Descargar krue__with_the_wind (descargado [downloadcount link="krue__with_the_wind.zip"] veces).