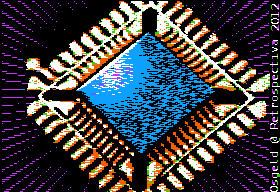 It's time for an Apple II entry with this graphic called CHIP by Osgeld.
Name: CHIP
Author: Osgeld
Description: High Res Image of QFP Integrated Circuit
Resolution: 280×192 HGR Page 2
Platform: Apple II
Tools used: Gimp + "Ghetto Image converter"
The file contains an Apple II boot disk image, the graphic in PNG format, the base image and the workstages. The file chip_info.txt contains more info about the creation and conversion process.
Download: chip (Downloaded [downloadcount link="chip.zip"] times)