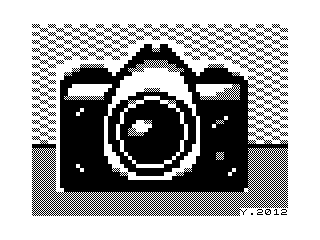 And  the graphics compo is officialy open with this great ZX-81(4K) LO-RES graphic submited by YERZMYEY.
Entry name: FOTO-APARAT
Author: YERZMYEY/HOOY-PROGRAM
Description: LO-RES image for the GFX compo
Resolution: 64×48 (standard hardware gfx resolution of ZX81).
Platform: Sinclair ZX-81 (minimun 4KB RAM)
Tools used: ZX PAINTYONE
The file contains the graphic in both native .p format (cargar mediante LOAD"") and .gif format.