December 14, 2012 in GFX, RSP2012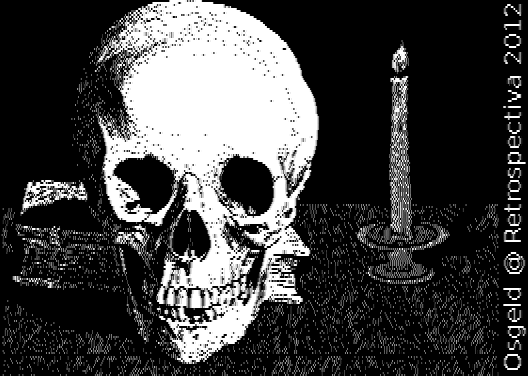 A new graphic for the Apple II by Osgeld, this time in DHGR monochrome mode.
Name: Osgeld's Skull
Autohr: Osgeld
Platform: Apple II
Resolution: 560×192 DHGR Monochrome
Description: Skull by candlelight, 560×192 DHGR Monochrome. Monochrome monitor recommended, with color signal you will get a big loss of detail. Skull and candle images sourced from public domain, the rest is just fiddling around in the gimp.
Tools used: Gimp 2.26 (artwork) – Paint Shop Pro 6 (pc format conversion, pixel touchup) – DMONO (by Bill Buckels, for final image conversion)
The archive containes a disk image with the graphic (.DSK), the graphic in PNG format and several workstages (PNG).
Download: Osgeld Skull (Downloaded: [downloadcount link="Osgeld-Skull-12-14-12-02-13-07.zip"] times)