December 24, 2012 in GFX, RSP2012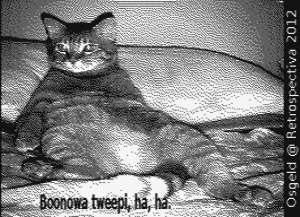 A new Apple II graphic by Osgeld.
Damn Cat is a DHGR monochrome conversion of  a photograph of one of Osgeld's cats.
Title: Damn Cat
Author: Osgeld
Platform: Apple II
Resolution: 560×192 DHGR monochrome
Description: Just one of my two cats being fat and lazy
Herramientas utilizadas: Gimp 2.26 (artwork) – Paint Shop Pro 6 (pc format conversion, pixel touchup) – DMONO (by Bill Buckels, for final image conversion)
The archive contains an autoboot disk image (.dsk) with the graphic and the workstages in .jpg format.
Download OsgeldDamnCat (Downloaded [downloadcount link="OsgeldDamnCat.zip"] times)