April 12, 2013 in Basic, Coding, Games, RSP2012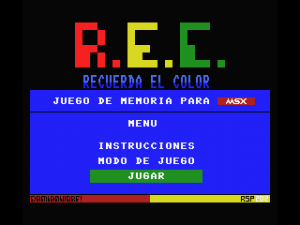 DamianWorf presents REC(Recuerda El Color – Remember The Color), his version of the classic game Simon, for MSX  computers.
REC is controlled with the cursor keys and can be played alone against the computer or against another player, taking turns.
Name: REC
Author: DamianWorf
Platform: MSX
Description: This game tests our ability to memorize a sequence of colors and sounds. You can play alone, leveling up, or against an opponent. To play, look closely at the sequence of colors of your opponent. When the computer tells it's your turn, you must repeat the sequence shown using the cursor keys for each color. If there are two players, each will add a new key after completing the sequence performed by the last!. Best of luck!
Tools used: BlueMSX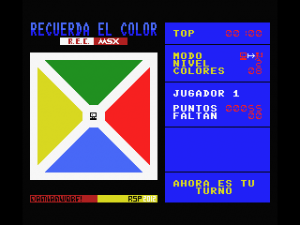 The archive contains a autoboot disk image.